Kyiv - the capital of Ukraine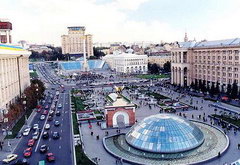 Kyiv (Kiev) is the capital and the largest city of Ukraine, located in the north central part of the country on the Dnieper River. Kyiv is an important industrial, scientific, educational and cultural centre of Eastern Europe. It is home to many high-tech industries, higher education institutions and world-famous historical landmarks. The city has an extensive infrastructure and highly developed system of public transport, including the Kyiv Metro.
Kyiv has the population of 2,86 million and occupies an area of more than 840 square kilometres.
Kyiv is one of the most ancient cities in the world. Human settlement at the site of the present day city may have occurred as early as the fifth or the sixth century AD. With the exact time of city foundation being hard to determine, May 1982 was chosen to celebrate the city's 1,500th anniversary..
Kyiv is located on the picturesque banks of the Dnieper River. Kyiv is famous for its beauty. The streets of Kyiv are broad and straight. There: are a lot of chestnut trees and flowers in the city.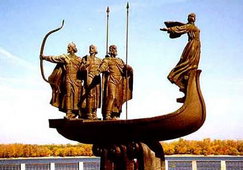 As one of the oldest cities of Europe it has many places of historic interest. Among them Kyiv-Pechersk Lavra, the St. Sophia's Cathedral, the Golden Gate, the monuments to Bohdan Khmelnitsky, and Prince Volodimir and others. In the park of Immortal Glory there is the Tomb of the Unknown Soldier, over which an eternal fire burns.
There are many fine museums in Kyiv: the State Historical Museum, the Museum of Ukrainian Art, the Shevchenko Museum.
Kyiv is famous for its theatres such as the Opera House (Taras Shevchenko Opera and Ballet Theatre), the Ivan Franko Ukrainian Drama Theatre, the Lesya Ukrainka Russian Drama Theatre and others.
Kyiv is the centre of education and science. Many scientific research institutes, universities, colleges are in the city.